Bore:

280 mm

Stroke:

320 mm

Speed:

750 / 720 rpm

Frequency:

50 Hz (750 rpm.) / 60 Hz (720 rpm)

Main effective pressure:

17.8 / 17.9 bar

---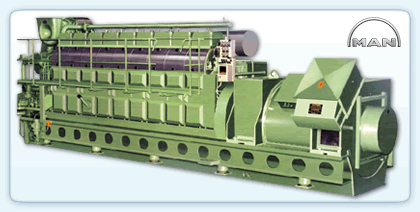 ---
ENGINE CHARACTERISTICS
Economy: The L28 / 32H uses the same heavy fuel as propulsion engines on ships.
Fuel and lubricating oil consumption is low.
The total costs of the entire 28/32 line for fuel, lubricants and maintenance are the lowest on the market in terms of power produced (kWh).
Heat dissipation: The heat dissipation protection system greatly reduces fuel consumption.
Low maintenance cost: in addition to the stated property of the lowest maintenance cost according to the range of power output it offers, the L28 / 32H requires overhauls every 20,000 hours.
Multiple configurations: The L28 / 32H supports 5 to 9 cylinders arranged in a line with an output of 1,050 to 1,980 kw.
---
Nominal power
Engine type
750 rpm 50 Hz
720 rpm 60 Hz
Eng. kW
Gen. kW
Eng. kW
Gen. kW
5L28/32H
1.100
1.045
1.050
1.000
6L28/32H
1.320
1.255
1.260
1.200
7L28/32H
1.540
1.465
1.470
1.400
8L28/32H
1.760
1.670
1.680
1.600
9L28/32H
1.980
1.880
1.890
1.800

---
Mass and dimensions of the generator set
Engine type
A
mm
B
mm
C
mm
H
mm
Mass ton*
5L28/32H
4.279
2.400
6.679
3.184
32,6
6L28/32H
4.759
2.510
7.269
3.184
36,3
7L28/32H
5.499
2.680
8.179
3.374
39,4
8L28/32H
5.979
2.770
8.749
3.374
40,7
9L28/32H
6.199
2.690
8.889
3.534
47,1

---

* – dry weight – whole engine

P – free passage between motors, width 600 mm and height 2,000 mm