Basic information
Bore:

270 mm

Stroke:

380 mm

Speed:

720 / 750 rpm

Frequency:

50 Hz (750 rpm) / 60 Hz (720 rpm)

Main effective pressure:

23 / 23,5 bar

---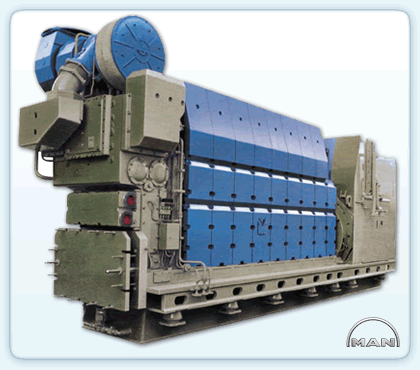 ---
ENGINE CHARACTERISTICS
Flexibility: 5 to 9 cylinder configurations with an output power range from 1,440 kW to 2,880 kW.
High reliability: about 40% fewer components than traditional engines for this purpose make the L27 / 38 more reliable with longer time periods between overhauls.
Improved working environment: robust engine block, carefully balanced rotating parts and innovations allow the engine to have very low vibrations and less noise.
Economy: The L27 / 38 is designed to generate high power output with minimal fuel and lubricating oil consumption.
Ease of maintenance: internal water and oil flow without piping, support functions in one working interface, a small number of components and a separate unit with cylinders greatly simplify maintenance.
---
Engine type

750 rpm 50 Hz

720 rpm 60 Hz

Eng. kW

Gen. kW

Eng. kW

Gen. kW

5L27/38
1.500
1.425
1.600
1.520
6L27/38
1.800
1.710
1.920
1.825
7L27/38
2.100
1.995
2.240
2.130
8L27/38
2.400
2.280
2.560
2.430
9L27/38
2.700
2.565
2.880
2.735

---
Mass and dimensions of the generator set
Engine type
A
mm
B
mm
C
mm
H
mm
Mass ton*
5L27/38
4.346
2.486
6.832
3.705
42,3
6L27/38 (720 okr)
4.791
2.766
7.557
3.705
45,8
6L27/38 (750 okr.)
4.791
2.766
7.557
3.717
46,1
7L27/38
5.236
2.766
8.002
3.717
52,1
8L27/38
5.681
2.986
8.667
3.717
58,3
9L27/38
6.126
2.986
9.112
3.797
63,9

---

* – dry weight – whole engine

P – free passage between motors, width 600 mm and height 2,000 mm