Basic information
Bore:

225 mm

Stroke:

300 mm

Speed:

900 / 750 / 720 rpm

Frequency:

50 Hz (750 rpm) / 60 Hz (720 rpm, 900 rpm)

Main effective pressure:

17.9 / 18.1 / 18.2 bar

---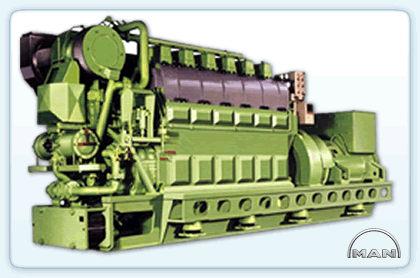 ---
ENGINE CHARACTERISTICS
Performance: The L23 / 30H is a four-stroke in-line engine with a minimum of 5 and a maximum of 8 cylinders. The output power range ranges from 650 kW to 1,280 kW.
Compact dimensions: 5.5 to 7 meters long, 1.6 meters wide and 2.3 to 2.8 meters high (depending on the number of cylinders), and a dry weight of 18.0 to 24.5 tons, makes L 23 / 30H compact motor. The height of the motor during disassembly is very small, so it is suitable in areas where the height is limited.
Economy: The L23 / 30H is designed to achieve optimal performance in heavy fuel oil (HFO) consumption. Consumption of lubricating oil is minimal.
Long period between two overhauls: with 16,000 hour intervals between two overhauls and regular short daily maintenance, the L23 / 30H has very low maintenance requirements.
Extensive monitoring and control system: all systems have built-in thermometers and manometers that allow alarm systems to be triggered. The engine contains standard shut-off functions in case of excessive speed, high cooling water temperature and low lubricating oil pressure.
Best selling MAN Diesel SE engine – Best HFO diesel generator set on the market – Over 5,000 engines currently in service
---
Nominal power
Engine type
900 rpm 60 Hz
750 rpm 50 Hz
720 rpm 60 Hz
Eng. kW
Gen. kW
Eng. kW
Gen. kW
Eng. kW
Gen. kW
5L23/30H
–
–
675
645
650
615
6L23/30H
960
910
810
770
780
740
7L23/30H
1.120
1.060
945
900
910
865
8L23/30H
1.280
1.215
1.080
1.025
1.040
990

---
Mass and dimensions of the generator set
Motor type
A
mm
B
mm
C
mm
H
mm
Mass ton*
5L 23 / 30 (720/750)
3.369
2.155
5.524
2.383
18.0
6L 23 / 30 (720/750)
3.738
2.265
6.004
2.383
19.7
6L 23 / 30 (900)
3.738
2.265
6.004
2.815
21.0
7L 23 / 30 (720/750)
4.109
2.395
6.504
2.815
21.4
7L 23 / 30 (900)
4.109
2.395
6.504
2.815
22.8
8L 23 / 30
4.475
2.480
6.959
2.815
23.5
9L 23 / 30
4.475
2.340
6.815
2.815
24.5

---

* – dry weight – whole engine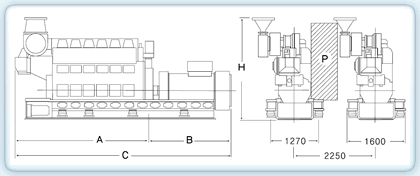 P – free passage between motors, width 600 mm and height 2,000 mm