Basic information
Bore:

210 mm

Stroke:

310 mm

Speed:

900 / 1000 rpm

Frequency:

50 Hz (1.000 rpm.) / 60 Hz (900 rpm.)

Main effective pressure:

22,4 / 23,6 bar

---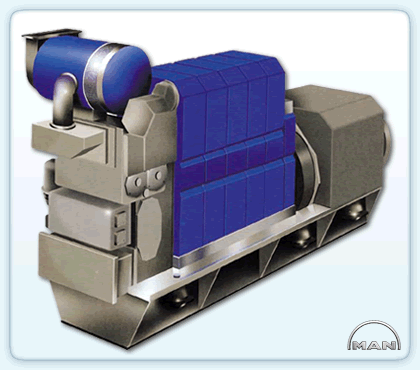 ---
ENGINE CHARACTERISTICS

Flexible configuration: depending on the power requirements, 5 to 9 cylinder configurations with a power range from 950 to 1,800 kW can be used.
High reliability: L21 / 31 is designed for long intervals between overhauls regardless of operating conditions and fuel.
Improved operating conditions: design features, such as ship-type connecting rods, transverse-flow cylinder covers, a resistant motor housing, a condensate separator and a lambda regulator, provide perfect operating conditions.
Economic justification: this engine is designed for high power output with low fuel and lubricating oil consumption.
Ease of maintenance: internal water and oil flow without piping, support functions in one working interface, a small number of components and a separate unit with cylinders greatly simplify maintenance.
---
Nominal power
Engine type

1.000 rpm 50 Hz

900 rpm 60 Hz

Eng. kW

Gen. kW

Eng. kW

Gen. kW

5L21/31

1.000

950

950

905

6L21/31

1.200

1.140

1.140

1.085

7L21/31

1.400

1.330

1.330

1.256

8L21/31

1.600

1.520

1.520

1.445

9L21/31

1.800

1.710

1.710

1.625

---
Mass and dimensions of the generator set
Engine type

A
mm

B
mm

C
mm

H
mm

Mass ton*

5L 21 / 31

—

—

5.860

3.050

21.3

6L 21 / 31

—

—

6.300

3.100

24.3

7L 21 / 31

—

—

6.760

27.3

8L 21 / 31

—

—

7.210

3.100

30.3

9L 21 / 31

—

—

7.660

3.250

33.3

---

* – dry weight – whole engine
 

P – free passage between motors, width 600 mm and height 2,000 mm