Bore:

160 mm

Stroke:

240 mm

Speed:

1000 / 1200 rpm

Frequency:

50 Hz (1.000 rpm.) / 60 Hz (1.200 rpm.)

Main effective pressure:

20.7 / 22.4 bar

---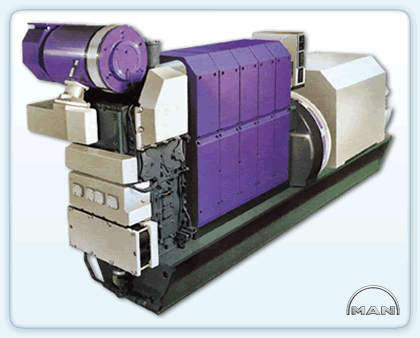 ---
ENGINE CHARACTERISTICS
Fuel: L16/24 uses the cheapest fuels efficiently regardless of load or start-up or stop phase.
Flexible configuration: Depending on the power requirements it is possible to use configurations with 5 to 9 cylinders
Performance: power output from 500 kW (5 cylinders) to 900 kW (9 cylinders). Each L16/24 engine has leading performace in terms of mass to power ratio (kW/kg).
Compactness: 1 meter wide, 2 meters high, and 4.15 to 5.53 meters long, the L16 / 24 is the smallest engine in this class (in terms of power).
Weight: the aforementioned compactness results in less weight compared to competing products. The weight of the L16 / 24 engine ranges from 9.5 to 13.1 tons.
Maintenance: L16 / 24 requires minimal daily maintenance.
Improved operating conditions: during operation, the L16 / 24 has very low vibrations and has built-in noise protection, which further reduces operating noise.
Caring for the environment: the whole L16 / 24 family has all the characteristics that take care of the environment.
---
Engine type

1.000 rpm/ min 50 Hz

1200 rpm/ min 60 Hz

Eng. kW

Gen. kW

Eng. kW

Gen. kW

5L16/24

450

430

500

475

6L16/24

540

515

600

570

7L16/24

630

600

700

665

8L16/24

720

680

800

760

9L16/24

810

770

900

855

---
Weight and dimensions gen. set
Engine type

A
mm

B
mm

C
mm

H
mm

Mass ton*

5L16/24

2.751

1.400

4.151

2.266

9,5

6L16/24

3.026

1.490

4.516

2.266

10,5

7L16/24

3.301

1.585

4.886

2.266

11,4

8L16/24

3.576

1.680

5.526

2.266

12,4

9L16/24

3.851

1.680

5.531

2.266

13,1

---

* – dry mass- entire motor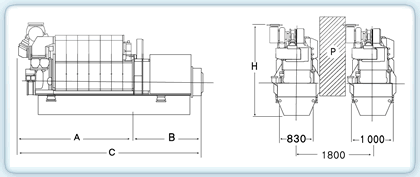 P – Free passage between engines, width 600 mm i height 2.000 mm